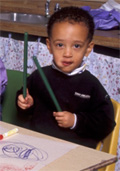 When children are in Pablo's space (bathroom line, water table, table activities) or trying to share toys/activities (centers, circle, playground), Pablo will hit and/or pinch to obtain the toy or activity. When this behavior happens, most children will leave the play area, back away from him, or give up the toy/activity.
When an adult who has been playing with Pablo gets up to leave (usually during sand play or centers), Pablo will hit the adult to get the adult to continue playing. Most of the time when this behavior occurs, the adult will sit back down and return to playing with Pablo.
When a child challenges Pablo for a toy or activity (especially in centers and on the playground), Pablo will bite the child. When this behavior occurs, Pablo gains adult attention through verbally scolding and/or by being held for a few minutes until he calms down. When released, he then goes and gets the activity or toy that he originally wanted.
When Pablo is on additional asthma and allergy medication and/or has had little sleep, he is more likely to engage in challenging behavior (hitting, pinching, biting).
This material was developed by the Center on the Social and Emotional Foundations for Early Learning with federal funds from the U.S. Department of Health and Human Services, Administration for Children and Families (Cooperative Agreement N. PHS 90YD0119). The contents of this publication do not necessarily reflect the views or policies of the U.S. Department of Health and Human Services, nor does mention of trade names, commercial projects, or organizations imply endorsement by the U.S. Government. You may reproduce this material for training and information purposes.
We welcome your feedback on this Training Module. Please go to the CSEFEL Web site (http://csefel.uiuc.edu) or call us at (217) 333-4123 to offer suggestions.