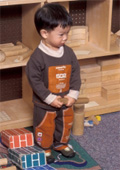 When Quan is engaged in group play (on playground or during centers inside the classroom) and there is "competition" for certain toys (e.g., train set or magnet toys), he (almost always) gets verbally and physically aggressive, and he (sometimes) engages in property destruction to obtain/keep a desired item or activity. When this behavior occurs, children leave the play area and/or give up the item to Quan.
When a child or adult approaches Quan to greet him, Quan will almost always respond with verbal aggression ("I'm gonna kill you," "I hate you"). When this behavior occurs, the child gains adult attention through a verbal reprimand, and the adult will then help him find something to play with.
When Quan's mother announces that it is time to leave a preferred activity (transition from floor play to dinner), Quan will begin either throwing toys or ramming toys into objects, furniture, or other toys. When this behavior occurs, he prolongs the transition, and his mother will usually sit down and play with him for a while longer.
This material was developed by the Center on the Social and Emotional Foundations for Early Learning with federal funds from the U.S. Department of Health and Human Services, Administration for Children and Families (Cooperative Agreement N. PHS 90YD0119). The contents of this publication do not necessarily reflect the views or policies of the U.S. Department of Health and Human Services, nor does mention of trade names, commercial projects, or organizations imply endorsement by the U.S. Government. You may reproduce this material for training and information purposes.
We welcome your feedback on this Training Module. Please go to the CSEFEL Web site (http://csefel.uiuc.edu) or call us at (217) 333-4123 to offer suggestions.