The Pyramid Model for Supporting Social Emotional Competence in Infants and Young Children. We have developed extensive, user-friendly training materials, videos, and print resources which are available directly from this website to help early care, health and education providers implement this model.
State Partnerships
Visit our states page to find more information about any of our state partners or new resources and information for all states.
State Partners: California, Colorado, Hawaii, Iowa, Maryland, Massachusetts, Nebraska, North Carolina, Tennessee, Vermont, and Wisconsin.
Stay Connected to CSEFEL: sign up for our electronic updates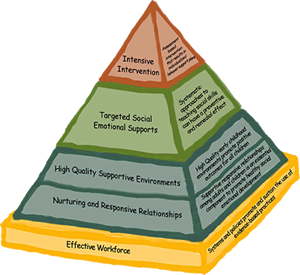 Pyramid Model
Promoting Social and Emotional Competence in Infants and Young Children
Enlarged Image | View Presentation
Spanish Image | Spanish Presentation